Return to ➽ ➽ Dragon Info
---

---
All information on this page is current and accurate as of August 14, 2018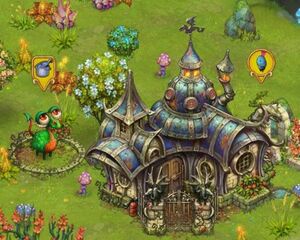 A Building used for crafting Dragons in your Magic Forest.
Big Changes to the Dragon Nursery • Aug 14, 2018 Game Update
All recipes have changed
Feeding Neighbors Dragons also requires the appropriate colored Dragon Treat (Crafted in the Greenhouse)
Dragons drop scales at home and at Neighbors
Dragons, Treats and Trovants are now used in some Good Deeds Tasks
Selling a Dragon now gives you a Dragon Element that can be opened like a stack of Packages.
Opening Dragon Elements will give you 2 - 4 resources and sometimes even a Dragon!
The Dragon Nursery has a 6h Construction Timer and cost 15,000c under the Structures tab in the store.