Return to ➽ ➽ Houses
---
The Cabin is available for purchase upon upgrading your Tower of Magic to L5.
Beware, you will not want to purchase this house unless you have a Jeweler's House and poles from a Lumber Mill available to you as they give required items needed to craft Glass in the Laboratory.

Note: You can try to get the items from Neighbors Jeweler's and Lumber Mills, you might get lucky on the rare drops!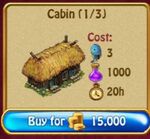 All information on this page is current and accurate as of August 10, 2018
 
---